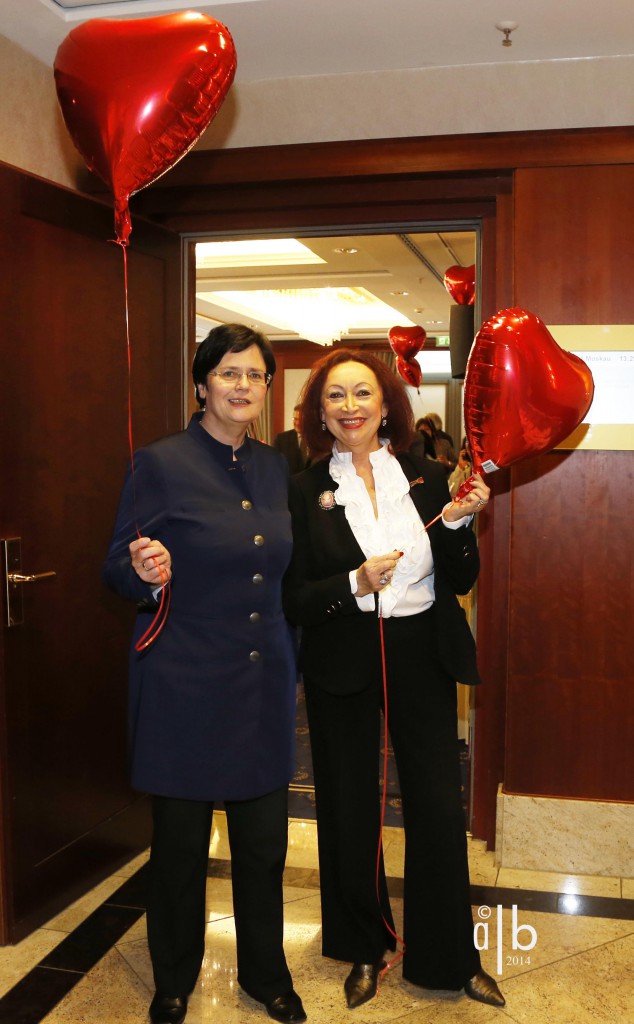 The Thuringian Prime Minister Christine Lieberknecht was on Valentine's Day guest at the monthly "Lunch with …" at the Ambassadors Club.
With a lively speech, she delighted the more than 35 ambassadors in the Maritim Hotel.
The Prime Minister spoke about how the Free State of Thuringia manages to combine tradition with the modern challenges.
In a globalized world much going faster and faster and more digital and the competitive pressure is increasing. But just in the face of these developments it is depending on the people and what they experience every day in the little daily things.
The roots in the local and the reflection on traditional skills were the starting point for the people of Thuringia to successfully adapt quickly even after the reunification of Germany to the new challenges. The connection of new ideas and techniques is the recipe for success of Thuringia. "That's why I am not at all afraid, that we cannot compete. Because we rely on small units – whether in politics, the economy or the family – we are flexible and strong.", said the Prime Minister Lieberknecht.
The interest of the ambassadors was great as the variety of questions showed. Thus, H.E. Prince Stefan von und zu Liechtenstein, Ambassador of the Principality of Liechtenstein, was interested of the impact of the new coalition agreement to Thuringia.
Especially the topics EEG, pension and transport infrastructure were discussed . The issues of cooperation with African countries and technology transfer in the future industries such as energy spoke the Ambassadors of Mauritius and South Sudan, H.E. Mrs. Sarojini Seeneevassen-Frers and H.E. Sitona Abdalla Osman on. H.E. Andrei Giro, Ambassador of Belarus, thanked Prime Minister Lieberknecht on behalf of their citizens: After the Chernobyl nuclear catastrophe his country had received a lot of help from Germany, especially from Thuringia by privately organized help and initiatives.
As a farewell, the President of the Ambassadors Club, Mrs. Mania Feilcke-Dierck referred a heart shaped balloon to the Prime Minister – even for politicians must be Valentine's Day.
Pictures: Agentur Baganz